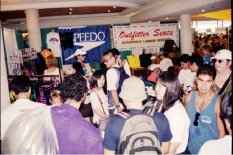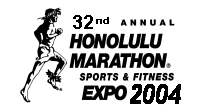 A L O H A !
This is your Invitation to the Honolulu Marathon Living Aloha Expo, scheduled for Wednesday, Thursday, Friday, Saturday - December 8, 9, 10,11. (8:00 AM to 6:00 PM ) - Admission is FREE
Every runner needs to come to the Expo to pick up their running packet. Anticipated entries in this year's Marathon are over 50,000.
The 32nd Annual Honolulu Marathon is scheduled for Sunday, December 12, 2004.
Promotional Opportunities

Please contact Production Hawaii for more information about participation in give-away bags or sponsorships.

Booth Size

10 feet x 10 feet
(For larger sizes combine contiguous booth spaces.)

Booth Includes

All booths include pipe and drape enclosure, 8' high back and 3' high sides. No carpet or furnishings are included.
A full catalog of rentals, telephone, electrical and other show services will be sent to all exhibitors upon receipt of their contract and deposit.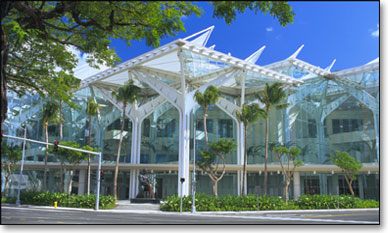 Expo Location
Hawaii Convention Center, Kamehameha Hall, 1801 Kalakaua Avenue, Honolulu, Hawaii 96815